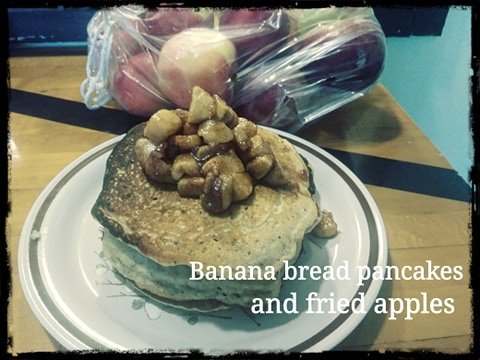 Food is always something that we put time, effort, and energy into around our house. Stacie D (@freedomtowrite) is a food magician. She can take the most complicated recipes and then modify them to fit anyone's food needs. In our case we eat without animal or animal by product. I guess you could say vegan if that is how you understand it.
We observe the Sabbath on Saturday, so we take the day to rest. We turn our focus from working, building, and creating content, and focus on the family and our God. This is often met with some incredible food. Like I said, Stacie D does big things.
So this past Saturday we did a bit of a team build. I fried up some apples, and she made banana bread pancakes. Can you even imagine!!! Pancakes that taste just like banana bread, and then topped with delicious cinnamony fried apples. I would like to mention that the apples were just purchased on Friday from a road side stand in Northern Michigan.
I don't have a recipe to share. I only have this image. I guess you could say photo, and then I create the image with my words. There is no doubt that this was one of the many tasty creations that will be a regular in our home. It was a quick win!
I hope you are all enjoying our adventure!
Be well
~The Yeti
Twitter: https://twitter.com/the_alpha_yeti
And join us on Inner Blocks discord! Click the banner below!