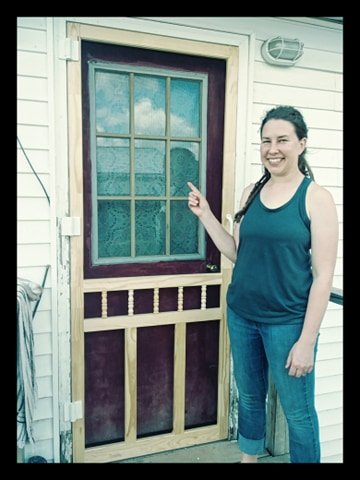 In all of our adventures, I believe that Stacie D adds beauty. I have taken wonderful pictures of her all across the U.S. 
Today we received a nice surprise from the farmer's wife. She was talking with us about the weather, and we mentioned that we needed to keep the door closed because we didn't have screen door.
I got a phone call while she was in town asking for measurements. Just an hour later we had a brand new screen door. It makes such a different when the cross breeze fills the house.
It says that it is 83 degrees F today but feels like 88. That is plenty hot for me. I was melting into my boots! 
I love DIY projects. I think that sometimes it is the simplest things that are the best. Another day full of experiences #innerblocks. 
Be well
~The Yeti
Come join us on The Inner Blocks discord!
---
View this post on the Inner Blocks Community dApp for the best experience.