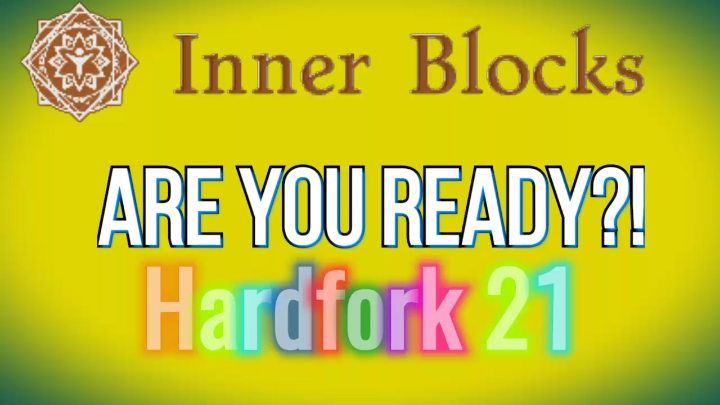 It is almost that time! Hardfork 21 is almost upon us. After the fall out from hardfork 20, there are many users that are a bit weary of what is about to happen. Here at Inner Blocks....we are full on ahead!
---
---
One of the largest changes that is happening is the reward distribution. Steemit is moving toward a 50/50 payout. This is a big jump for many people that are already used to the current pay out. 
At Inner Blocks we are focused on people. Not just the gritty inner workings of a much larger system, but really focusing on the many people that make it all possible. We hear when people speak, and want to encourage everyone to push on.
There has been quite alot of talk from content creators about creating less content. There has been talk by alot of users that are nervous about people earning to downvote. I have a motto that I try to always remember. "Those who live in wooden houses shouldn't pick fights with those that have matches". It is a basic saying that reflects that heart of not worrying about what is happening around you, but focusing on taking care of yourself.
I have learned during my time here, since October of 2017, that people are going to do whatever they want. No matter how it may actually impact you. There is a fair about of emotional voting that just has to do with opinions. "oh I don't like that topic...downvote". That doesn't actually have anything to do with the post, just the voter's feelings. 
I wanted to take some time this morning to talk encourage everyone to keep pushing forward. Business as usual. There is not need to be nervous, and not need to be upset. Let us all not forget what brought us here, and why we are still here. We have seen many changes, and these won't be the last.
---
---
Over at Inner Blocks we have had some great do updates!!! Our head developer @jasonbu has been doing some amazing work, and this past week has added a few new features. Many of the updates are behind the scenes. Nothing that the average user would really jump up and down about, but he is pretty excited. 
There has been the update to the hivemind API to get Inner Blocks ready for the communities and upcoming SMT. This is a big jump for the project all of the ideas that we have about the future.
The latest update that I am enjoying to most is the addition of Keychain to the frontend. Before, the only option to log in was using Steemconnect. Now you can still use Steemconnect or you can use Keychain!
With this project being a grassroots build from the ground up, this is incredible. We are all looking forward to the following updates as we work our way toward the relaunch for the front end. 
As Jason continues to make updates on the front end he will be loading it all on to https://www.theinnerblocks.com. When everything gets to a point that we are ready for the relaunch, we will roll all of the work over to the new URL www.innerblocks.com. 
---
---
As we are patiently plugging away at this project, we know that it will benefit many people...both in the digital world and the physical world. We have large plans for Inner Blocks. 
For now, while we are working on the front end, Stacie D and The Yeti will be working hard to bring the world together. We are focusing on the people aspect of Inner Blocks. Find more ways to support and encourage more people.
For the account @innerblocks we are currently just over 8,700 SP, and are happy to accept delegations of any size. The delegations are currently being used to curate first hand content from around the world. Also, to claim accounts. 
We currently have 7 curators that keep our discord based curation bot running around the clock. We are still looking for more diverse curators that would be interested in volunteering to curate great content!
Now, lets talk hardfork 21. One of the largest changes that we are going to see is the pay outs for curation. Inner Blocks is going to use all of the rewards that come in from curating so much content to support the project and continue to build what we may need for SMT.
There is also an option for you to maximize your returns in this new system. Have you considered joining a voting trail? A voting trail is set up to let you automatically upvote whatever the trail you are following upvotes. We are also running a trail! 
You can follow the trail at https://steemauto.com/dash.php?i=1&trail=innerblocks
By joining this trail you will be upvoting everything that Inner Blocks is upvoting. That is first hand, experiential content from around the world, around the clock. We want to encourage everyone to build their blocks (the different things that make us who we are) and be excited about living their lives!
---
---
In closing I would like to say a couple things. We would love your support for the project via Steem Delegation. We would also encourage you to join a voting trail to maximize your potential earnings even if the trail is not Inner Blocks. Choose a project that you really support. Last, we encourage you to not get caught in the negative spiral that usually surrounds a hard fork. Don't get caught in the down draft of negative comments and posts. Keep your head up, live your amazing life, and keep pushing forward!
~ Inner Blocks

---
View this post on the Inner Blocks Community dApp for the best experience.