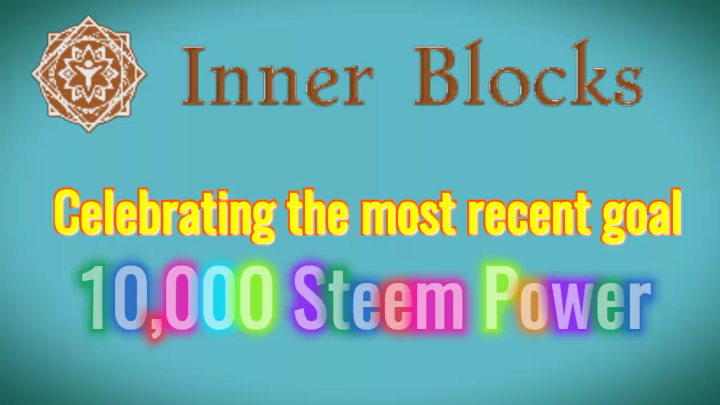 Today is a big day for @innerblocks. As a community we have just passed 10,000 Steem Power!!!!!
There are many moving parts that are being juggled by the Inner Blocks team. One of the parts is the community building and support.
The idea behind this is simple. Create a great community that supports people living real experiences....bring people together....raise support...and then encourage everyone!!!
That is exactly what is happening. @innerblocks is griwing more everyday. The discord community is continuing to develop and expand into different countries and multiple languages.
We currently run a discord based manual curation bot that allows curators to bring post URLs to discord and then it will upvote and leave a comment. There are now 10 curators from all over the world!!
It is important to enjoy the little victories along the way before moving on toward the next goal.
Speaking of the next goal.... 15,000 SP!!!!
With the potential of the Steem ecosystem ever expanding, we want to be ready as it does. Another moving part of @innerblocks is the front end. It is a custom built front end that is being built in a grassroots effort to bring something unique. Our developer @jasonbu is staying active in his lab creating an amazing experience for everyone.
You can currently follow the development at https://www.theinnerblocks.com before it all gets rolled onto innerblocks.com.
The sky is the limit, and everything is coming up Milhouse!!!
We invite you to join us on Inner Blocks discord and and jump in and support this amazing growing project by delegating to
There is no limit, and all returns go toward supporting creators and growing the Inner Blocks project. We regularly use steemworld.org for our delegation needs
Another layer of support is the steemauto which will allow you to automatically upvote everything that @innerblocks upvotes. You can do this via...
https://steemauto.com/dash.php?i=1&trail=innerblocks
Thank you all for joining us for this amazing moment in our experience!!!
~Inner Blocks