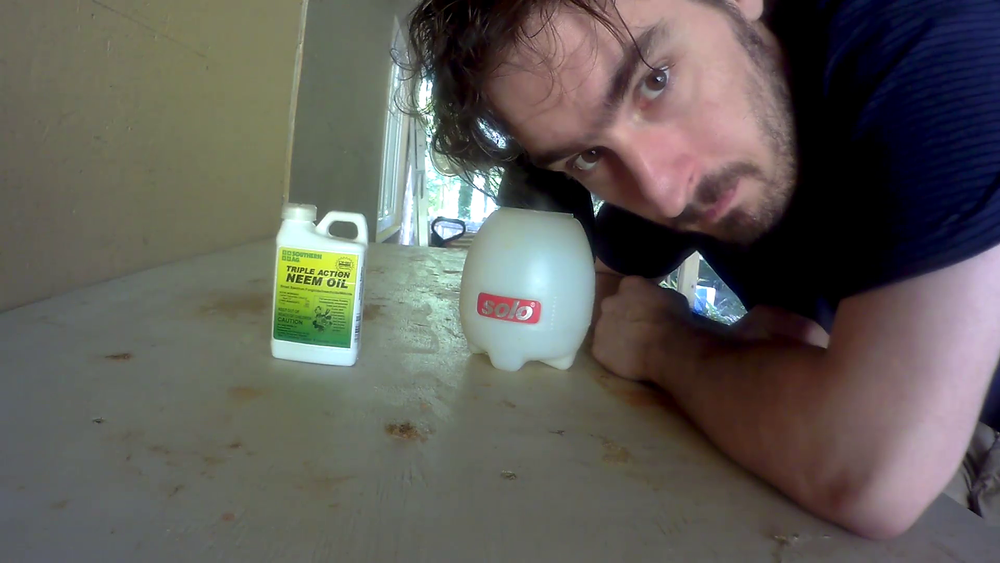 ---
Growing plants outside means pests throughout the year will try to set up home in the bushes and on the fruit im trying to grow. I recently found some spider mites growing on my blueberries. Luckily ive dealt with them before and used Neem oil with great success.
Neem oil is an oil pressed from the fruits and seeds of the Neem tree. It works on many levels to care for the plant, its an insect repellent and controls fungus.
I also treat my Japanese Aralia for aphids, ants have been farming them on the leaves for awhile. It knocks them out real good.
If the video has trouble playing, please use my IPFS Gateway instead of D.tube's by following this link

Addresses below to help me buy better camera equipment and support me to travel to locations to do photo and video and overall great blogs in new places. I would be happy to list some of the contributors in my posts for donations that help me along the way.
| Coin | Address |
| --- | --- |
| BTC: | bc1qhfmvd2gywg4fvrgy2kkkkyqta0g86whkt7j8r7 |
| LTC: | ltc1qdyzm5cwgt8e2373prx67yye6y9ewk0l8jf3ys9 |
| DASH: | XkSqR5DxQL3wy4kNbjqDbgbMYNih3a7ZcM |
| ETH: | 0x045f409dAe14338669730078201888636B047DC3 |
| DOGE: | DSoekC21AKSZHAcV9vqR8yYefrh8XcX92Z |
| ZEN: | znW9mh62WDSCeBXxnVLCETMx59Ho446HJgq |
Rockin Steemians
#rockhound & @rockhounds by @bitfiend
#shadowphoto by @melinda010100
#GTWCA (Crypto Price Analysis) by @gandalfthewhite
---
thanks @nevlu123 for the animation
---
▶️ DTube
▶️ IPFS