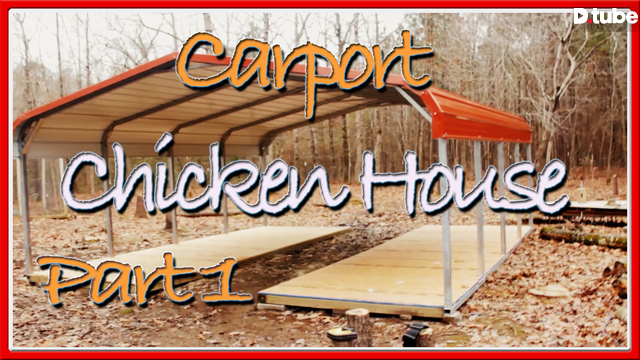 ---
We do a conversion to modify a carport into a chicken house. In this fist video, we build the floors. We show you how we do it and how much it costs.
Help Us By Becoming a Patron! https://www.patreon.com/squareonefarms
Order a Square One Farms T-shirt here: https://bit.ly/2JQMbnH
Get your Square One Farms Coffee Cup here: https://bit.ly/2HmwMcb
Follow us on:
BitChute: https://www.bitchute.com/channel/squareonefarms/
Facebook: https://www.facebook.com/SquareOneFarms/
Instagram: https://www.instagram.com/squareonefarms/
YouTube: https://www.youtube.com/c/SquareOneFarms
Help Support a Veteran Farmer: https://paypal.me/square1farms
—————————————————————————————
We're Mike and Jessie, married for 17 years, two daughters and at a point where we decided that keeping up with the Jones' and running the rat race to get ahead wasn't worth it any more. After getting out of the military, we decided to go back to Square One, in South Central Arkansas, where self-sufficiency is the key and going back to our roots is the way we live forward. We weren't raised this way and homesteading doesn't come natural to us any more than it comes natural to others diving off into this journey. We are making a whole lot of mistakes, but learning all along the way.
We hope you like what you see, will subscribe and follow this journey along with us. We will have regular vlogs, a few how-to's, lots of projects and just simply the details behind us building a farm.
You can connect with us on Facebook and Instagram as well and we will always get back and respond to your comments.
Snail Mail:
Square One Farms
P.O. Box 54
Jefferson, AR. 72079
—————————————————————————————
Gear Used For Videos:
Camera: https://amzn.to/2QFytCU
Tripod: https://amzn.to/2JxZupe
Video Mic: https://amzn.to/2PEC5Ig
Studio Light: https://amzn.to/2PTPUmb
iPhone: https://amzn.to/2NPwjPi
Lens Filter Kit: https://amzn.to/2NKXgmX
Computer: https://amzn.to/2E7T1lU
External Hard Drive: https://amzn.to/2qT5Qad
Editing Software: https://amzn.to/2Ec5F3x
I get my music from Epidemic Sound: https://www.epidemicsound.com/
Music in this video from Epidemic Sound:
Love For The Ocean (Tigerblood Jewel Remix) - Martin Hall
My Last Song (Tigerblood Jewel Remix) - The Eastern Plain
Other Music In This Video:
Palmetto Moon - Unknown Artist
Aviated - Unkown Artist
—————————————————————————————
#squareonefarms #carportconversion #CarportChickenCoop
Note: Some links may be affiliate links, which strictly means it costs the same for you, but we might make a couple pennies off of your purchase and it is a way for you to help support this channel and continue bringing you new content.
---
▶️ DTube
▶️ IPFS