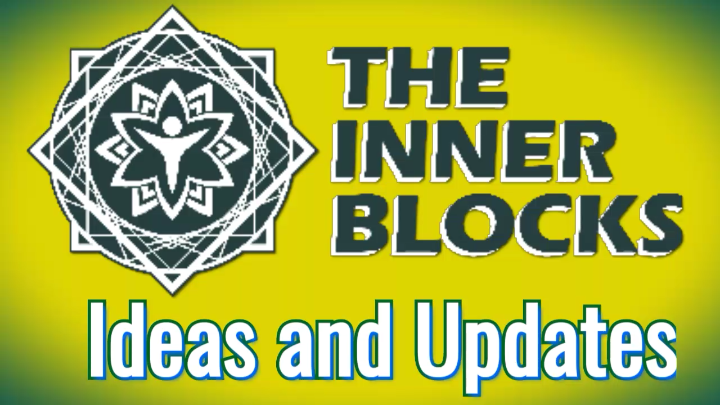 I hope that this post finds you well! This morning I would like to take some time and talk about things that have been going on around The Inner Blocks. 
Both Stacie D (@freedomtowrite) and I (@freedompoint) have been working to really get things done both in the physical world and the digital world. I would like to say that both are going great!
Here recently, the needs of the physical world have been very demanding. Not that it is long term, but at least these couple of weeks. As some of you may know, we work as farm hands on a farm in Northern Michigan, and it is hay season. So this past week I have been cutting hay and working on equipment.
Yesterday, we had to cancel The Inner Blocks radio show on The Ramble due to cutting hay and a piece of equipment breaking, but never fear! We plan to continue with the radio show as the community continues to grow. 
Speaking of growth, we are still experiencing growth every week! There are a couple of things that we measure. We look at tag use (#innerblocks), we also look at the tag (#theinnerblocks) which shows dApp use. We also look at amounts of delegations, and amount of footer use on posts.
With the continued development of different aspects of the community, we would like for the hashtag #innerblocks to become synonymous with experience. The Inner Blocks is all about life. Living our best life. Content that reflects our experience. 
We feel that there has been some confusion while using the phrase self-reliance. We have found that simple and defined terms is what makes the concept consumable. So the term self-reliance makes people think about homesteading or bushcrafting.
The way that we see self-reliance is being reliant on ourselves. That we are all responsible for our own lives and well being. There is no limit to this idea. There is no limit to our experiences. The only limit is ourselves.
We have noticed that the tag has been less used in certain communities maybe because it has not been so clearly defined. I could honestly say that 99% of everything under the tag #homesteading and #gardening would be #innerblocks. But also so would #cooking, #mindful, #fitness. 
There is so much amazing content in this world, so we need to find a way to convey the idea behind what The Inner Blocks stands for. We need to actively use the tag #innerblocks. Not just as a post tag, but on other social medias as well. 
It is not so much about branding currently, but more about understanding. We believe that The Inner Blocks can and will grow to be something larger than just an online community. What will bring about the growth is the connections between the communities. 
---
---
I have been in communication with our developer @jasonbu about the direction for the dApp. There are big things coming for the site, and I feel like it could be a great addition to the blockchain. 
We made a decision early on that we wanted to include community members in the design of the dApp. Stacie D and I had the over all vision, Jason has the technical vision, and the community has been telling us what they would love to see and experience.
We have been taking in all of the recommendations and applying it to the build. The dApp is currently fully functional (I am using it for this post), and you can check it out here.... The Inner Blocks dApp
The goal with the dApp is to not only be creator friendly and easy to use, but to be consumer friendly and easy to navigate. The long road would look like many new users that want to search and consume, not just create content. 
The features that we are looking to include are ideas that have been pulled from many different sites as well as other front ends from around the blockchain. I know personally that there are some incredible ideas out there, and I would love to be able to share those types of features with many people.
This early community involvement has come with it's own set of challenges. Most ideas are mostly to fully developed and then given to the community to use. From there people either really like it or not. Our approach was to give everyone a chance to look behind the curtain. To see what is going on during the development and planning phase.
We thought it would be a great idea for many to feel like they are a part of something much bigger, but it has driven some away from the project. I believe that it has become normal to consume a complete project versus being a part of the build. I love that we are getting so much feedback toward the end goal, and I know that it was actually the right idea.
So for now I leave you with this....
Don't be afraid to live your best life. No matter what your favorite hobby is. No matter how many different things (blocks) make you who you are. You have the right to live your best life. To take care of yourself mind, body, and spirit. Physically, mentally, and spiritually. To do for yourself and your family whatever needs to be done. To rely on yourself, and be responsible for you! #innerblocks
---
View this post on the Inner Blocks Community dApp for the best experience.