This post is a collection of cool vehicles that I have seen over the past few years, some vintage, some modern, some with interesting colors. I'm not so much into cars and know very few of them just by sight, but these were interesting to me at the time.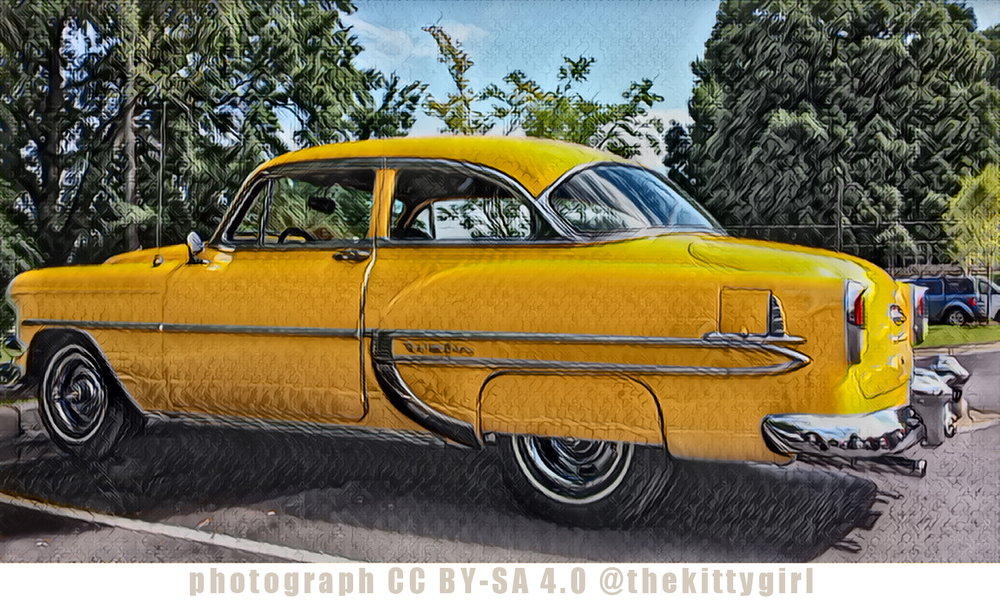 First up is this awesome vintage Bel-Air automobile from Chevrolet. I clearly remember seeing these cars as a child, but they always had the "tail fins" on them. Perhaps this more rounded-rear without the fins is from an earlier model, 1954, perhaps? I am sure some of you vehicle aficionados know! I don't believe this color was common back in those days, was it...?!?!?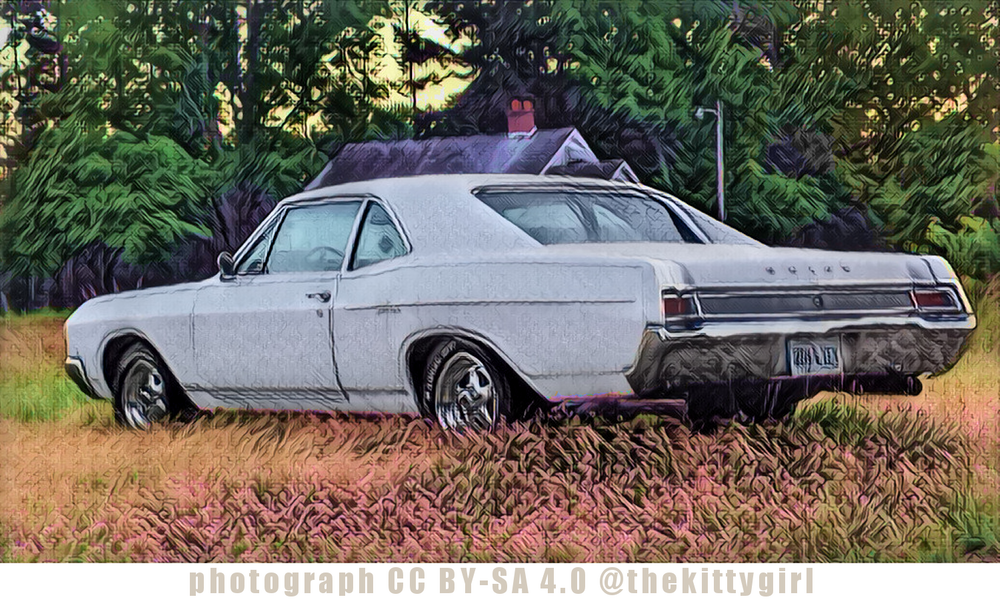 Next up is this sporty Buick coupe from [I am guessing] the 1970s. I'm not sure of the model, but I remember someone who had a similar car that was called the "Buick Special" and was such a fun car to drive! This one was sitting at the edge of a parking lot with a "For Sale" sign on the front windshield. It disappeared a few weeks later, hopefully going to a good home.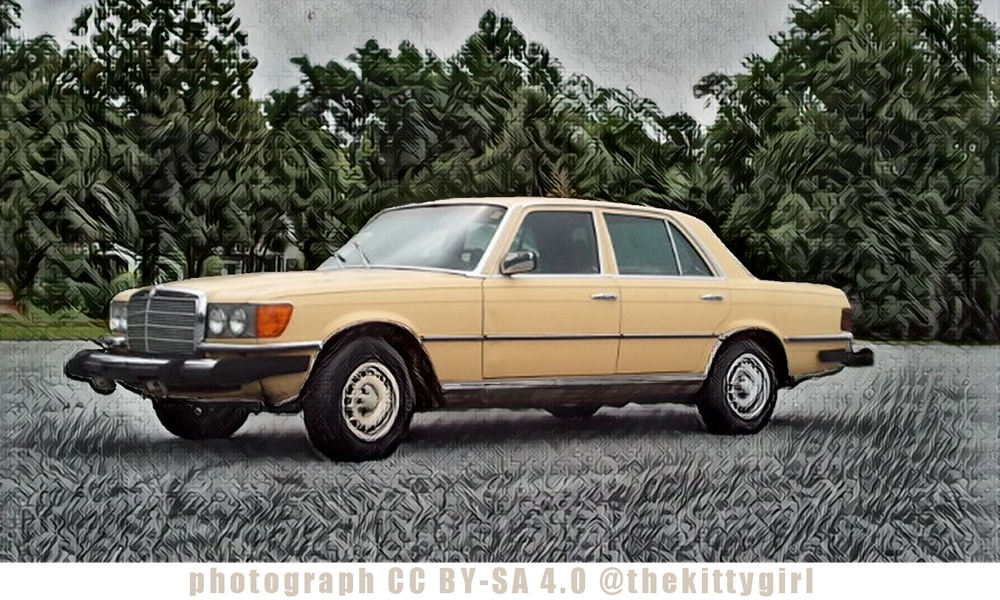 Another car that was for sale was this pretty thing: a Mercedes-Benz 300SD, which I only knew because it was on the back of the car. I thought the pale-yellow color of this sedan was so pretty and classy looking! It was even paler in color than shows here, as my processing darkened the color of the car a bit. I think this design is so sleek and elegant!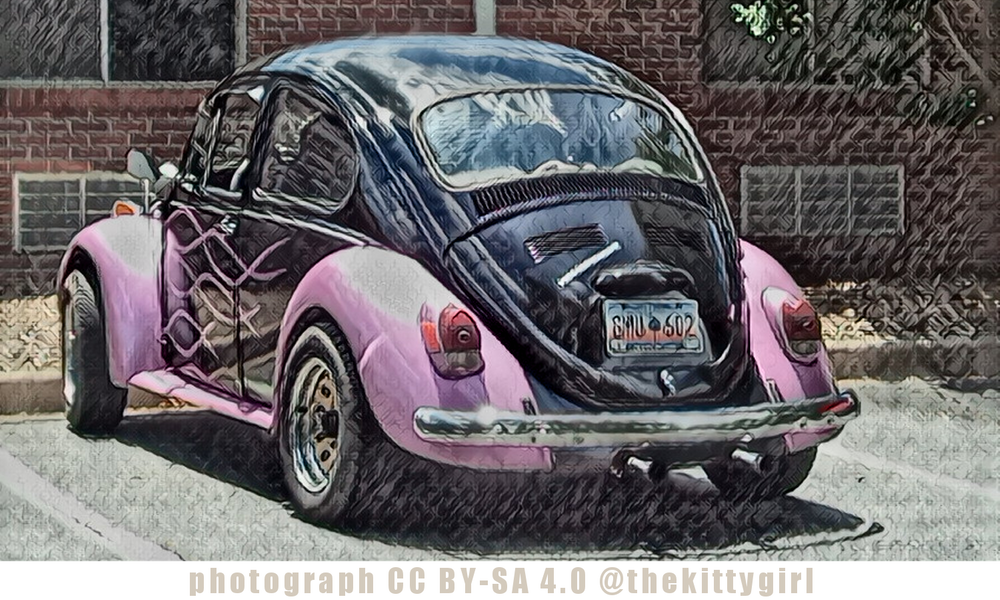 Anyone who knows me knows that I love pink, and this pink-and-black Volkswagon Beetle is the cutest little thing! The owner lives only about a half-mile (0.8 km) from me, so I see this car often, at their house if not around town. The little wavy lines detailing the side add to the uniqueness of the paint job.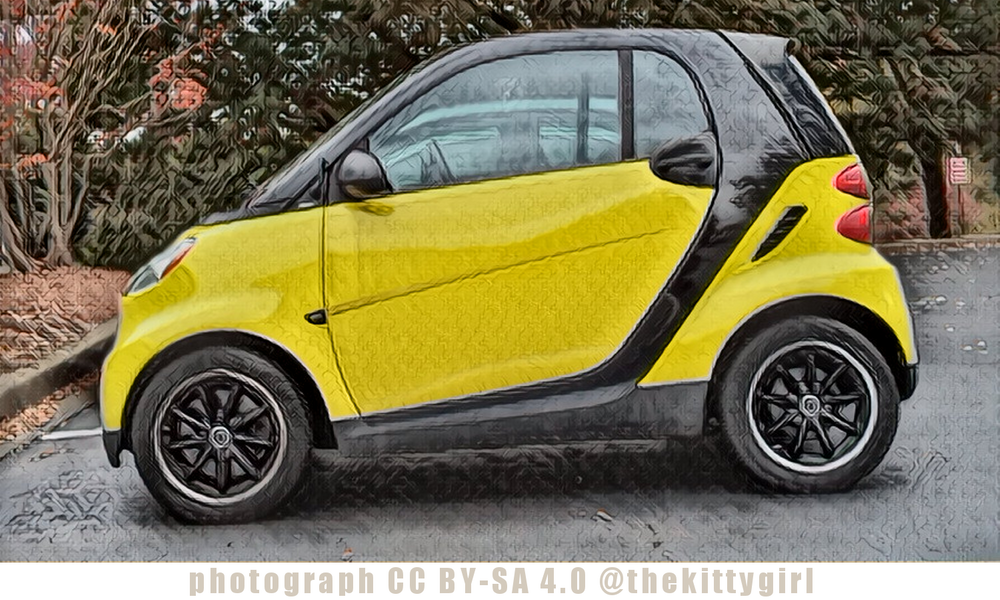 OMG, is this not the most adorable little car...? It is called a "Smart Car" and was a concept of the CEO for Swatch watch company. It is an eco-friendly vehicle with excellent gas-milage for gas-powered engines, and an electric version is also available. For more information about this fascinating auto, read the history behind it!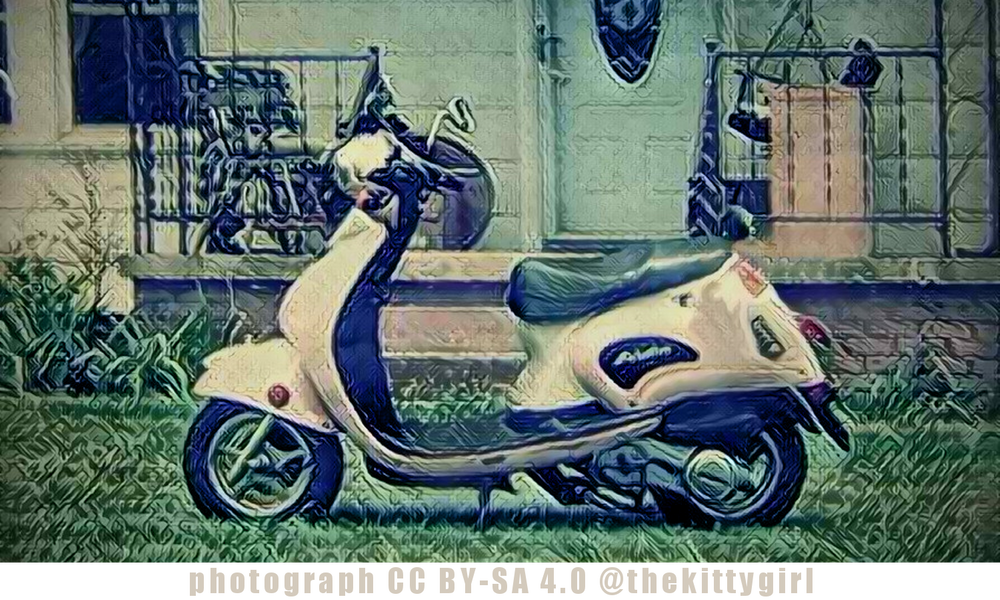 I've never had a scooter, but if I had one I'd want it to be pink, maybe like this lovely little pale-pink model! I saw this for sale in a nearby town a few years ago while I was caregiving my elderly parents. I did not have the money to buy it, no way to get it back to our house, and it might have been a dangerous investment at the time, anyway, because I needed to stay safe & healthy so I could continue my caregiving duties. But, it is so adorable! 😸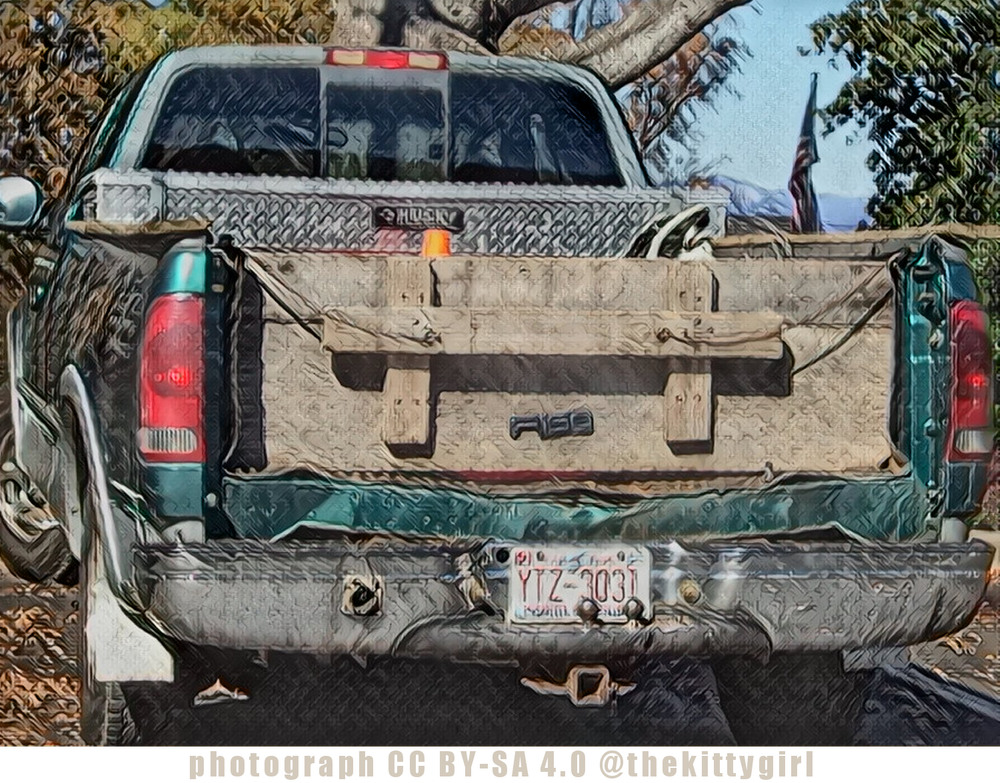 Yes, this pickup truck has a wooden tailgate, cobbled-together by a do-it-yourselfer. I don't know the story behind this, but truck tailgates were among the targets of thieves several years ago, who took their stolen goods to scrap-metal centers for resale. Law enforcement cracked-down on the centers that accepted such items as tailgates, manhole covers, and copper pipe which was stolen from air-conditioning units outside of churches. Perhaps this truck's owner was victim to thieves...? Or perhaps he damaged his tailgate on the farm and couldn't afford to replace it right away...? Since the bed of the truck is quite buckled on the bottom, I am tending towards the latter theory. Gotta admire the dude's ingenuity with the replacement, though! Note that he even put a "F150" badge on the wooden tailgate! 😂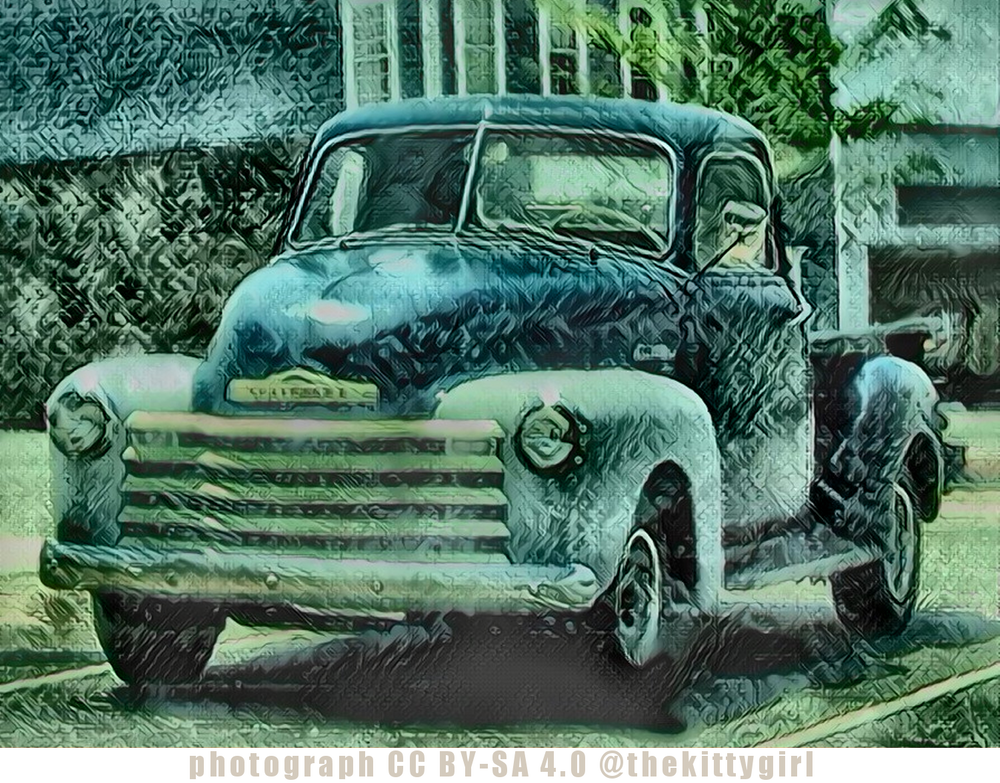 When I was a child, this 1950s/1960s-era truck was the only type of truck that was commonly owned by the average citizen. And, the only people who owned them were farmers, plumbers, electricians — people who really needed to haul things on a regular basis, as per the intended design. People who were not farmers or tradesmen opted for a station wagon if they needed to haul things on an occasional basis. Trucks were not the "status symbol" they sometimes are today, and I can't fathom how they became such. Anyway, this lovely vintage truck was for sale recently and it certainly did not sit there long with the "for sale" sign on it (which I edited-out of this photo).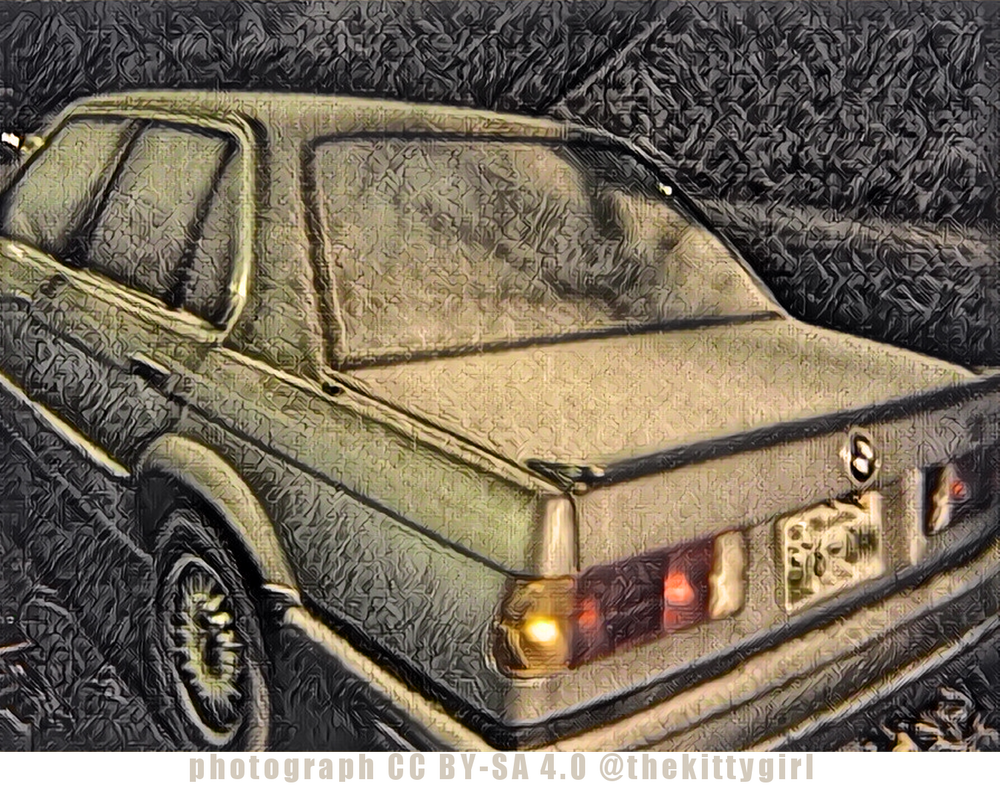 This was my late-husband's car. He loved BMWs and never could afford a new one, so he drove an older model. I forget exactly what model it was, but I think it was a 1986 or 1987 E30 325, so it was about 20 years old when he bought it. He loved that car! I only drove it a couple of times, to get to work when my car was in the shop. The only trouble I had was trying to figure out all the buttons & knobs on the dashboard, because the symbols were not the ones I was accustomed to seeing!
My favorite story about his car was this one: I had been out-of-state, caring for my elderly parents for about a year, and had only gotten to see my husband a brief fleeting time or two during that period, although we talked on the phone daily. My mother was in the hospital, yet again, with a bout of bronchitis, and my father I were there visiting with her. After a bit, I stepped outside and walked far away from the building to the designated "smoking area" beside the entrance to the parking lot. I saw a car that looked very much like my husband's approaching, and remember thinking to myself, "Wow, there is a car like Don's, and it's even the same color!" Next thing I knew, the car pulled up near me and I was in shock when my husband waved and grinned at me! I had no idea he was coming because he wanted to surprise me! He had not eaten lunch yet, so we went into the hospital's cafeteria and I talked to him while he enjoyed a meal, then he went upstairs with me and visited with my parents for a bit before he had to head back to our house in the other state. He really made my day! 😁

This is a photo from the family album of my mother's parents standing beside their old car. I don't know exactly when this photo was made, but my grandfather passed away in 1951, before I was born. I also don't know the type of car they had, and I don't recall ever asking anyone who might have known. My mother's father was a farmer all his life,and he is rather hunched-over in this photo because of a lifetime of physical labor. My mother's mother passed away when I was only three years old, so I don't really have any memories of her, and my father's parents were the only grandparents I can actually remember.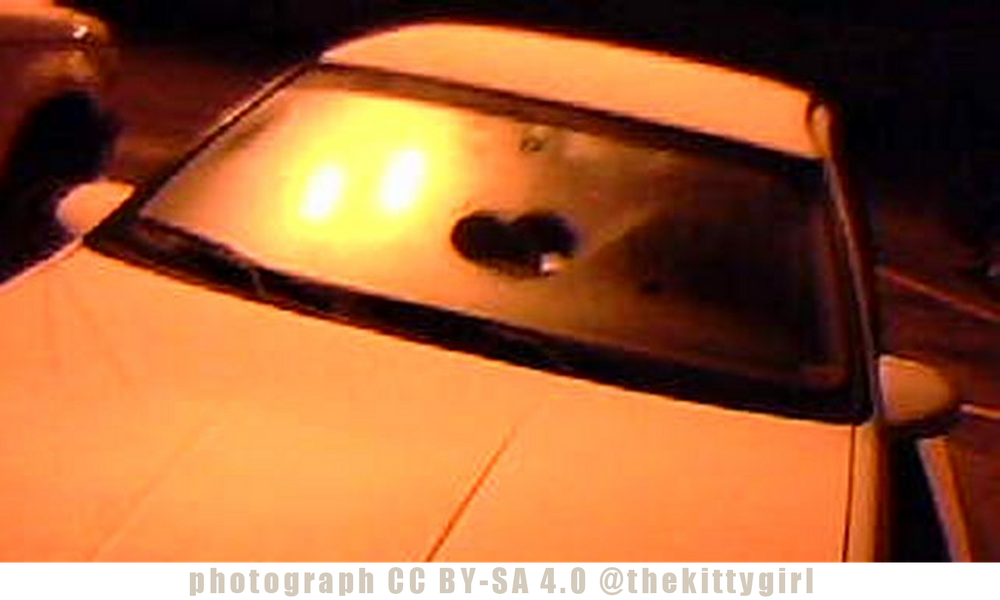 I went into a parking lot one night and saw a car that had just recently been parked on a cool night and condensation had formed on the windshield. It was completely covered in moisture except for one heart-shaped bit still remaining! Such a cool and unusual thing to see! 💜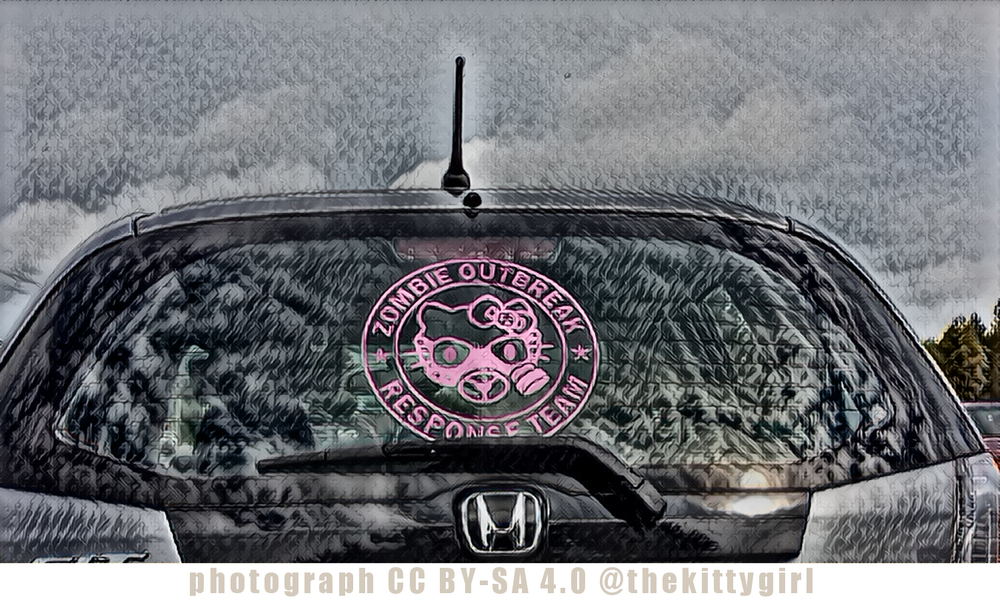 This sticker was spotted on the rear windshield of a car parked at the grocery store. I love "Hello,Kitty" and so this sticker was an instant hit with me! And if there is a Zombie Outbreak, I definitely want "Hello,Kitty" on my side! 😼

If you like the automobile page divider I have used in this post, feel free to RIGHT-click on it and "Save As..." to download it to your device, or you may hot-link to it with the URL:
https://steemitimages.com/1000x0/https://files.steempeak.com/file/steempeak/thekittygirl/uuUgBSFk-CarDivider-1.png
I found the car clipart at PublicDomainPictures.net and modified it, per allowance in the license:
License: CC0 Public Domain
Karen Arnold has released this "Vintage Car Clipart" image under Public Domain license. It means that you can use and modify it for your personal and commercial projects.
I am also releasing my modification with CC0 Public Domain licensing, so you are free to use it without attribution to me. Enjoy!

 😊




06-Oct-2019